Enercare Smarter Home - adding logins
Enercare Smarter Home blends easily into your life giving you time to focus on what's important.  To help make it seamless, you can give everyone in your household access to what each individual needs based on their login.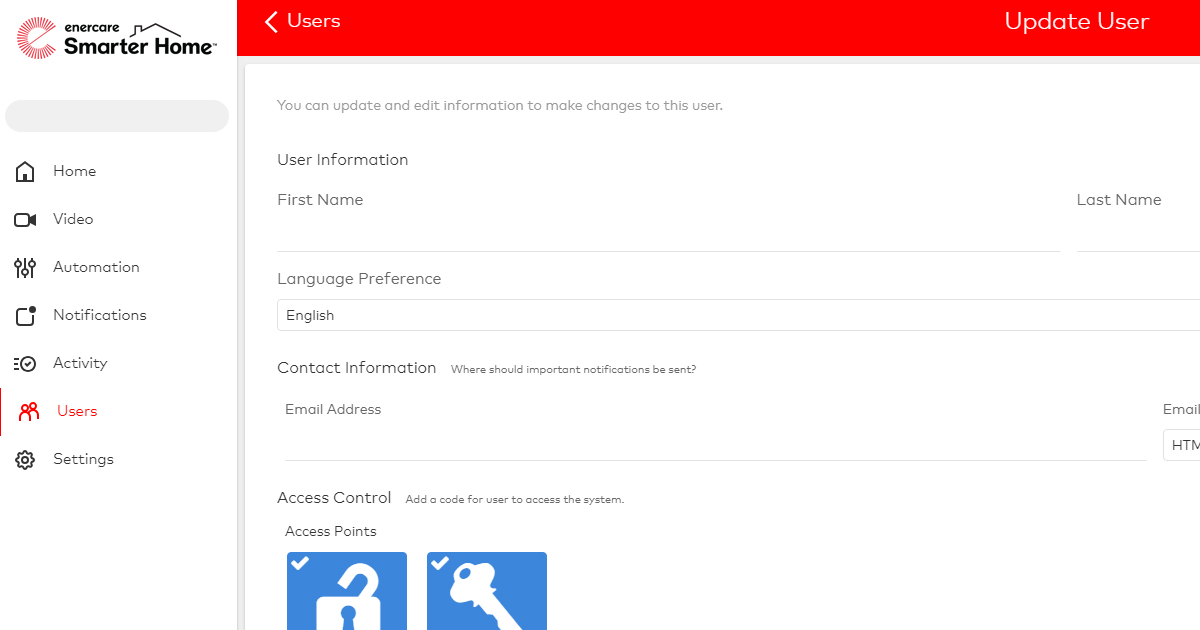 To add a new login to your Enercare Smarter Home
Log into the Enercare Smarter Home Portal.
From your account homepage, click "Users" in the left side panel.
Click "Manage Logins" at the top of the page.
Click "Add a Login" at the bottom right of the page.
Fill in the form details. The login name will auto-populate with the user's email address but can be changed to a preferred login name. It must be at least four characters long.
Click "Save" - Please note: if you receive an error when saving that states the login name is invalid, this means that the login name is in use already in the system and you will need to select a different login name.
Select a permission level for this login. Selecting "Custom" will enable the feature permissions options, which allows you to select the specific areas each user will have access to.
 Click "Save".
To edit the primary user's login information
Log into the Enercare Smarter Home Portal.
From your account homepage, click "Settings in" the left side of the page.
Click "Login Information".
Click the tab on the left-hand side where changes are required.
Edit the fields as applicable and click "Update" after every edit made to make sure your changes have been saved.
 
If you require further assistance, please contact the Enercare Smarter Home team at Smarterhome@enercare.ca or call 1-833-99-SMART.