Get a free AC, with the purchase of a new Enercare Smarter Furnace™*
Offer expires: September 30, 2021
Get a Free Price Quote on a New Air Conditioner
Call 1 855-287-9404, or fill out the form below to receive a call from us, and schedule a free in-home assessment to get your price quote. All fields are required unless marked optional

No Surprises Guarantee
The price we quote is the price you pay. Our No Surprises Guarantee protects you from any additional installation costs of your heating and cooling system.
Need to Buy a New Air Conditioner?
In Ontario, the average cost to buy and install a new central air conditioner is $3,500 to $6,000. Get in touch with our sales team to discover what benefits a new AC unit can bring to your home. After an in-home assessment to learn your ideal cooling needs, you get a no-obligation fixed price quote – even if there's unexpected work, you won't pay a loonie more.
Meet Our Qualified Energy Management Consultants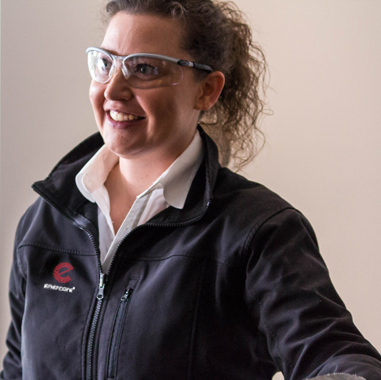 Our Energy Management Consultants have years of experience in the HVAC industry and will work with you to find the best solution for your unique HVAC needs.
They will collect information about your home, including how old your home is, how insulated your walls are, how many windows and doors there are and if you have any concerns including hot and cold areas.
All of our installations work to manufacturer standards so you will get the best from your equipment for years to come.
Read our buyer's guide to air conditioners to learn more about the AC buying process. 
The Home AC Unit Buying Process
Schedule a free in-home assessment
Call us or fill out the Get Free Price Quote form above to schedule your assessment.
For forms, our representatives will reach out to you to set up your appointment.
After scheduling your appointment, we'll send a highly trained Energy Management Consultant to inspect your home. 
In-home visit with an Energy Management Consultant (EMC)
One of our EMCs will come to your home and complete an hour-long no-cost, no-obligation assessment. 
The EMC looks at your current HVAC equipment and asks questions to provide the best solutions for your home.
The EMC then provides fixed-price quotes and payment options.
Equipment installation
After choosing a cooling solution, our EMC will book an installation appointment that works with your schedule. 
The installation can take 1-2 days, depending on the size of the installation. 
If we're installing your air conditioner in the middle of winter with extreme temperatures, our team may need to come back in the spring to finish the job
Our installation teams are committed to making sure they are respectful to you and your home.
Maintaining your equipment
Change the furnace filter at least every three months to keep your HVAC equipment running efficiently. 
Just like a car, regular maintenance is essential to help increase the lifespan of your furnace and reduce your monthly energy bills. An Enercare Cooling
Maintenance Plan helps keep your air conditioner in peak operating shape for years to come. 
When is it Time to Replace Your Air Conditioner?
Buy AC FAQs
Yes, if you have a central air conditioner. The air conditioner works with the furnace fan to transfer cool air throughout the home. We recommend that you change or clean your furnace filter every one-to-three months.
In the case of major malfunctions or new installations, HVAC technicians recommend simultaneously replacing the inside and outside equipment of the air conditioner.
The cost of an air conditioner installation varies and should always be included in the estimate.
A central air conditioner should only be installed by a licensed and trained professional.
With annual maintenance from a qualified AC technician, an air conditioner may last approximately 10-15 years.
The average price range of a typical new high-efficiency central air conditioner in Ontario ranges from $3,500 to $6,000. This price includes standard installation from a fully-insured, licensed company, at least a one year warranty and all required licenses for installation.
The cost of an air conditioner is dependent on four factors:
Environmental choices, including energy efficiency, sound output, air filtration sizes (which depend on allergies or other sensitivities), and comfort-enhancing options.
Personal choices including extended warranties, maintenance plans and guarantees.
Technical requirements, including the size of your home, floor plan, number of stories, existing ductwork and BTU load.
Code requirements including safety, licensing and building code requirements.
Every home is unique and a number of factors impact the air conditioner size needed, including the size and age of your home, air flow, how many windows you have, insulation, and specific homeowner requirements. To make sure you get the air conditioner size that best suits your needs, it's critical to have a professional visit your home to complete an evaluation to calculate heat gain and air flow. Incorrect sizing of an air conditioner may cause a shortened life of the equipment, higher utility costs and diminished comfort because the home isn't cooling down or dehumidifying correctly.