North York Air Conditioner Repair, Maintenance & Installation
Transform those sweltering summer days into comfortable chill time with our North York AC repair, maintenance, and installation services. Enercare's expert technicians are licensed and insured and have experience working with a wide range of HVAC equipment—call 866-311-6026.
North York Air Conditioner Repair
Don't let a busted AC keep you sweating. North York AC repair services are available from Enercare 24/7, including a free in-home consultation to quickly restore your family's comfort.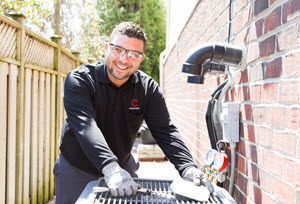 Whether you receive a one-time repair at cost or decide to sign up for our Cooling Repair and Protection Plan, Enercare is here to help.
Customers who choose Enercare for North York AC repair will receive:
A thorough diagnostic and safety check of your air conditioner;

Expert advice and quality work from fully licensed technicians, including a comprehensive HomeCare Report that outlines the health of your AC equipment;

A fixed price quote that includes all parts and labour required

–

no hidden charges; and

1-year parts and 90-day labour guarantee for all repair work completed.*
We're available for service on any make and model of air conditioner and our technicians are fully licensed with WSIB, TSSA and ESA certifications.
Call now for emergency AC repair services in North York at 866-311-6026.
North York Air Conditioner Maintenance
Equipment loses efficiency and function over time—air conditioners are no exception to this rule. Without on-going AC maintenance services, your equipment will deteriorate and result in a faster need for replacement and installation of a new unit.
Enercare's Cooling Maintenance Plan is designed for the homeowner's peace of mind, with comprehensive diagnostic support for maximum energy efficiency. Sign up for this plan today by calling 855-282-5082.
Air Conditioner Replacement and Installation Services
When it's time to upgrade your AC unit, Enercare's skilled technicians are available for complete support throughout the sales and installation process.
We've installed more than 180,000 air conditioning systems for more than 20 years, helping homeowners across Ontario stay cool.
Buy
Your North York AC replacement or installation services begin with selecting the best equipment for your needs. Schedule an in-home consultation and learn more about ordering the right system by calling 866-311-6026.
Enercare customers will receive a fixed quote that won't increase, as well as a one-year warranty.
To learn more about AC replacement and installation services, see our 2021 Air Conditioner Buyer's Guide.
Rent
Designed as an alternative to up-front payment, Enercare's AC rental program connects homeowners with reliable equipment for an affordable monthly rate.
Other perks of our AC rental program include:
Free same-day service***

Zero parts & labour charge for all repairs**
Whether you need emergency AC repair or consultation for maintenance, Enercare's experienced technicians are available for service across the North York and greater Toronto areas. Call 866-311-6026.
* Parts and labour guarantees apply to repairs completed to resolve the original problem identified. Any subsequent problems with your equipment are not covered by these guarantees.
** Certain exceptions apply. See rental agreement for details.
*** Available to Enercare's Heating/Cooling protection plan customers, rental water heater customers and/or rental HVAC customers whose equipment is not operational (for example – no heat, no cooling or no hot water). On average, Enercare attends to furnace/boiler, central air conditioner, or water heater non-operational calls 90% of the time the same day. Subject to exclusions in accordance with the terms and conditions of the applicable protection plan or rental agreement.