Mississauga Air Conditioner Repair, Maintenance & Installation
Whether your AC broke down in the heat of summer, or you're prepping for warmer weather, Enercare is here with AC repair, maintenance and installation services for the greater Mississauga area. Call our Mississauga team for services at 416-849-6581.
Mississauga Air Conditioner Repair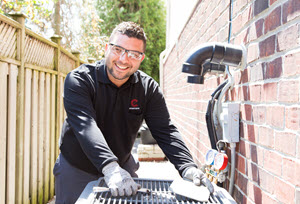 An unreliable AC is impossible to endure on summer's hottest days. With support from an experienced Enercare technician, you can get fast and affordable AC repair in the greater Mississauga area.
Your home air conditioner appointment will include:
A thorough diagnostic and safety check of your air conditioner;

Expert advice and quality work from fully licensed technicians, including a comprehensive HomeCare Report that outlines the health of your AC equipment;

A fixed price quote that includes all parts and labour required

–

no hidden charges; and

1-year parts and 90-day labour guarantee for all repair work completed.*
AC repair services are available as a one-time service call, or as a combined Cooling Repair and Protection Plan, which includes coverage of future breakdowns.
Our team of technicians can service any air conditioner make and model and are fully licensed with WSIB, TSSA and ESA certifications.
To schedule emergency AC repair in Mississauga, give us a call 24/7 at 416-849-6581.
Mississauga Air Conditioner Maintenance
Designed for the homeowner's comfort, an AC is an essential piece of HVAC equipment for any home. However, it only makes a difference if it's in working condition. The experienced team at Enercare is available for reliable AC maintenance services in the greater Mississauga area.
Don't wait for your AC to break—plan ahead with Enercare's Cooling Maintenance Plan and call 855-282-5082.
Air Conditioner Replacement and Installation Services
Is it time to upgrade your old, inefficient air conditioner? A unit from more than 15-20 years ago can rack up the electricity bill and do little to abate the sweltering heat.
Contact Enercare for dependable AC installation services in the greater Mississauga area—we've set up more than 180,000 air conditioning systems across Ontario.
Buy
Air conditioner replacement and installation services start with selecting the right unit for your home. Call our knowledgeable sales team at 855-401-9088 to schedule a free in-home assessment. We'll learn more about your specific needs for cooling and provide a fixed quote.
When you choose Enercare for AC installation services, you get the peace of mind that comes with hiring a licensed technician, as well as a one-year warranty.
Learn more about your AC repair or replacement options in our 2021 Air Conditioner Buyer's Guide.
Rent
Sign up for the AC rental program from Enercare—a great option for those in need of an alternative to the up-front cost of a new unit.
Installation services** are included when you sign up for our AC rental program and include these stress-saving features:
Free same-day service***

Zero parts & labour charge for all repairs**
* Parts and labour guarantees apply to repairs completed to resolve to the original problem identified. Any subsequent problems with your equipment are not covered by these guarantees.
** Certain exceptions apply. See rental agreement for details.
*** Available to Enercare's Heating/Cooling protection plan customers, rental water heater customers and/or rental HVAC customers whose equipment is not operational (for example – no heat, no cooling or no hot water). On average, Enercare attends to furnace/boiler, central air conditioner, or water heater non-operational calls 90% of the time the same day. Subject to exclusions in accordance with the terms and conditions of the applicable protection plan or rental agreement.