Save $40 off a plumbing repair quote*
Offer expires: September 30, 2021
Unblock Your Life with Expert Plumbing Repair
No one wants to clog up their day trying to fix a plumbing issue in their home. From blocked drains to leaky pipes, a lot can go wrong when it comes to plumbing. That's why Enercare offers multiple plumbing repair options so you can focus on what matters most and leave the fixes to the professionals.
Emergency Plumbing Repairs
Enercare offers a plumbing repair quote for only $99 + HST*. You can count on Enercare's fast and reliable service from licensed plumbers ready to diagnose and fix any plumbing issues in your home. With emergency plumbing repair, you get:
A diagnosis of the problem
A written, no-surprises quote for parts and labour to fix the problem
The best advice to make an informed decision
Same-day repair when parts are available.
Plumbing Repair and Protection Plan
With a Plumbing Repair and Protection Plan from Enercare, never worry about plumbing problems. For a one-time fee of $99 + HST* plus a monthly rate of $17.99**, you can take care of your immediate repair needs plus any future issues with your plumbing. With Enercare's Plumbing Repair and Protection Plan, you get:
Fixes on immediate issues up to a maximum of $500**
An unlimited number of service calls
Equipment diagnosis and repair by a fully-licensed plumber
No out of pocket expenses - parts and labour covered***
24/7 Customer Support Centre with Same-Day Service
Get a No Surprises Plumbing Repair Quote From a Licensed Plumber
Enercare has been around for decades, and we plan on being around for a lot longer. We're a Canadian company striving to help our neighbours with the best service in town. With multiple licensed technicians and experts in our community, you can be sure to get the best repair service for your unique situation. Enercare is here to help—all you have to do is call or register on our mobile app!
Local
Enercare Home Services is Canadian-owned and operated and we are proud to serve the communities where we live.
Licensed
We have a team of more than 700 fully licensed and certified HVAC technicians, electricians, and plumbers.
Available
We have a 24/7 customer support centre ready to take your call any time of the day.
Security
Our work comes with 90-day labour and 1-year parts coverage.✝
Trust
Our customers agree that we work hard to deliver the best service, giving us a 4.7 score on Google Reviews.‡
Accessible
Our mobile app allows you to schedule appointments conveniently and track your technician en route
10.1.1
DIY Plumbing Diagnostics
Diagnosing specific plumbing issues and knowing the best solution requires an expert, but there are several simple, easy diagnostic steps you can take to ensure a plumbing inspection is necessary.
How Do I Know if My Plumbing is Bad?
When your plumbing is on the fritz, you'll likely discover one of the following problems: 
Unusual sounds coming from the faucets

Low or inconsistent water pressure

Unpleasant smells coming from the drains

Sluggish or backed-up drains

Discolored water

Water stains near plumbing fixtures or damaged walls from leaky pipes
How Often Does Plumbing Need to be Replaced?
Your home's pipes eventually succumb to wear and tear, resulting in replacement. When you need to replace your plumbing depends on the pipe material used in your home. Here are the average lifespans for common plumbing materials: 
Brass, cast iron, and galvanized steel: 80-100 years

Copper: 70-80 years

PVC piping: 24-45 years
Protect Your Whole Home With Enercare
Heating, cooling, or plumbing problems? Enercare has you covered. With Enercare's Total Home Protection Plan, you get the best coverage for all your home needs. Not only do you get our highly-rated service for air conditioning, furnace, or plumbing repairs, you can get service as soon as the same day**** when you call before 5:00 PM.. Speak to an agent to sign up for a Total Home Protection Plan today!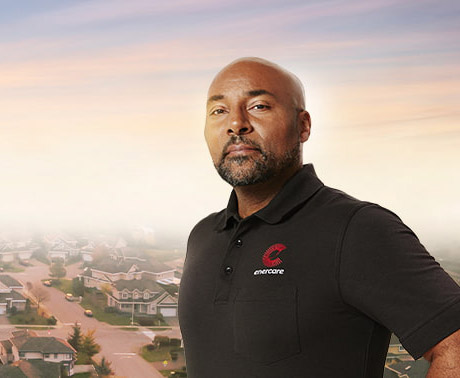 Repair FAQs
Please give us a call at 1-888-266-3939. We will book an appointment and one of our technicians will be on the way to install the new part for you.
Do not open the package! Call 1-888-266-3939 and provide your Name, Address and Subcase Number. We will book your appointment and our technician will be on the way to install the new part.
The number of parts required for every make and model of equipment we cover is lengthy and impossible to carry on our trucks. We warehouse the parts that we need the most but when we are really busy it's challenging to keep them in stock. We work closely with a parts supplier to get the parts needed as quickly as possible. If your equipment is over 15 years old, it can sometimes become harder for us to source the parts to repair your equipment.
To help us, please let our call centre rep know any details you can about your equipment - if it's not working at all, if it's making a noise, and what brand, model and year it is if you can.
Diagnostic and safety check of your equipment
Fixed price quote including all parts and labour required - no hidden charges
Access to our 24/7 Support Centre
Access to over 700 fully-licensed, expert technicians
A call from your technician before arrival so you'll know just when to expect us
All work fully guaranteed - 90 day labour coverage & 1 year parts coverage*
Flexible payment options
A comprehensive HomeCare Report that outlines the health of your heating equipment
* Warranty coverage applies only to the original problem. If a new problem appears it would not be covered.
Natural gas and propane furnaces, boilers, central air conditioners, natural gas water heaters, plumbing, all of Enercare's Rental/Advantage equipment.
We repair all makes and models and we back the repair with a 90 day labour coverage & 1 year parts coverage*.
* Warranty coverage applies only to the original problem. If a new problem appears it would not be covered.