Furnace Efficiency Ratings and What They Mean
Energy efficiency is super important when you think about heating your home.  Learn more about the programs and systems that are in place in Canada to help you understand what you are purchasing.
Furnace efficiency ratings – what are they and what do they mean?
There are a lot of variables to consider when you invest in a new furnace: Will I know when it's time to replace my furnace? Does anyone in my home suffer from respiratory problems? What size system do we need to heat our size of home?
But have you ever thought about your furnace efficiency rating? Not sure what this means?
Enercare is here to help you understand what the furnace efficiency rating is and how it can affect your home and budget.
The furnace efficiency rating helps establish how much energy will be needed to heat your home and, essentially, how much it will cost you. Typically, the higher your furnace efficiency rating the less energy your heating system requires to heat your home.
AFUE Rating
The AFUE (Annual Fuel Utilization Efficiency) rating measures energy efficiency in furnaces. The higher the AFUE rating, the more efficient the unit is. The voluntary EnerGuide label displays the model type and AFUE rating. It also includes a pointer to show where that rating falls on a scale of energy efficiency in comparison to similar models.
Note that AFUE ratings are a seasonal measure of fuel efficiency and do not include the electrical energy required to operate controls, fans or pumps.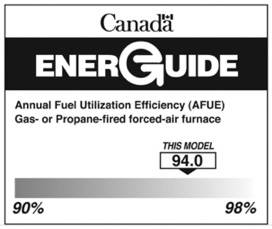 ENERGY STAR®
The ENERGY STAR® initiative is a partnership between the Government of Canada and industry to promote energy efficiency. Canadians can look for the ENERGY STAR symbol on products, new homes and industrial facilities to help guide purchase decisions.
If you're interested in upgrading your equipment, contact the experts at Enercare to inquire about our high efficiency models and furnace rental service.